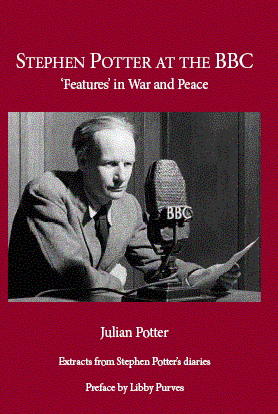 Broadcasting
As a broadcaster with the BBC from 1939-1948, Stephen Potter produced and wrote between 150 and 200 radio programmes. The book Stephen Potter at the BBC covers this work which included:
In December 1938, when on a part-time contract with the BBC, Stephen Potter wrote and produced The Last Crusade, a programme about the Spanish Armada, written from the perspective of King Philip of Spain.
In June 1939, Stephen Potter wrote and produced Air Raid, a simulation of an air raid on London, to get people used to the idea that it might happen and persuade them to take ARP precautions.
The "How" series was a series of satirical radio programmes making fun of people's behaviour. There were 29 programmes in total (mainly from 1943 to 1949), produced by Stephen Potter, and written by Stephen Potter and Joyce Grenfell. The "How" repertory company (of which Joyce Grenfell was the leading member and in which Stephen Potter also participated) performed all the programmes.
The first "How", How to Talk to Children (including How not to and How they used to), was transmitted in June 1943. When, on 29 September 1946, the BBC launched the Third Programme (the third radio station, which was the fore-runner of current BBC Radios 3 and 4), a Potter/Grenfell collaboration, How to Listen, opened the new station.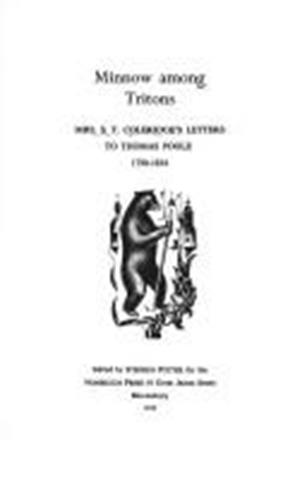 Literary Books
Stephen Potter's early work included a number of literary books:
During the 1930s, while Stephen Potter wrote several books about Coleridge. Minnow among Tritons explored Coleridge and the Lake District poets, such as Wordsworth, from the unsympathetic perspective of the letters of Mrs Coleridge. Coleridge and S.T.C., explored the dual nature of Coleridge. He also selected and edited The Nonesuch Coleridge.
In 1937, he wrote The Muse in Chains, an attack on methods of teaching English Literature in Universities. He coined the phrase Eng.Lit. in this work.
He also wrote in 1930, D.H.Lawrence: a First Study, the first book about D.H.Lawrence.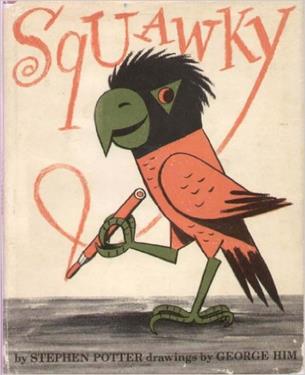 Other works
Stephen Potter wrote the copy for a long-running series of adverts for Schweppes, based on the fictional county of Schweppeshire. He worked on this with the artist, George Him. The pair teamed up again for a children's illustrated book, Squawky, written for Stephen's son, Luke.